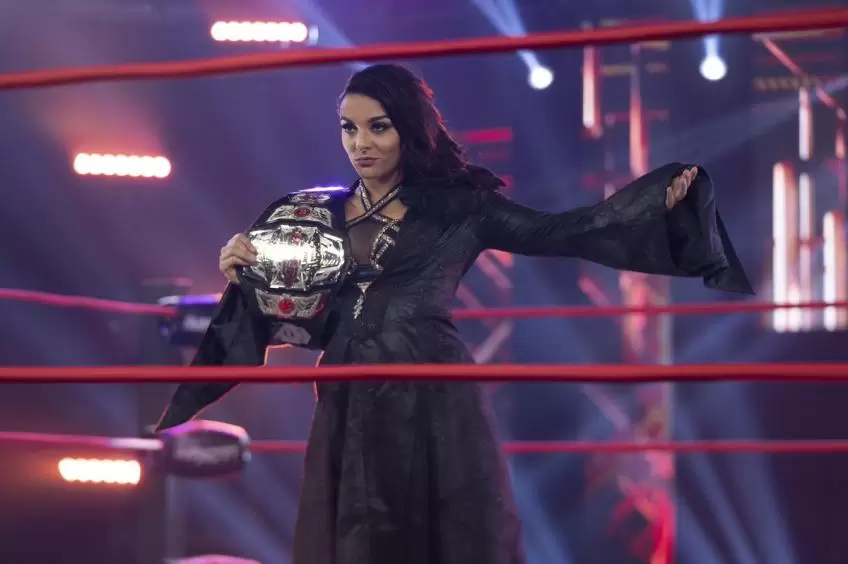 After dominating the IMPACT women's division for some time and being a tough champion to beat, former WWE Deonna Purrazzo lost 2021 Bound For Glory title to veteran Mickie James. The two will have a rematch to IMPACT Hard To Kill on January 8th and it was announced just this week that it will be a Texas Death Match, which is a match that works like the Last Man Standing Match, the only difference is that you have to be pinned, then begins a count of 10.
If the pinned person fails to get up by 10, he loses.
Latest news on Deonna Purrazzo
On April 6, 2020, episode of WWE RAW, Nia Jax squashed Deonna Purrazzo in just one minute and thirty-five seconds. It marked Deonna's last ever appearance with the company.
She signed with IMPACT Wrestling following the expiry of her non-compete clause and has not looked back since. If Purrazzo is ever to step foot back into a WWE ring, her sights should be firmly set on Nia Jax. She could ultimately blame Jax for being instrumental in her departure by embarrassing her on RAW.
At the same time, she could also thank Jax for inspiring The Virtuosa we see today in IMPACT. Interviewed by Fightful's Sean Ross Sapp, the wrestler talked about her time as a champion and what she had to do, or wanted to do, after losing the title: "I think I had eighteen months in that role and I've been away.
on TV for three or four weeks and honestly, it was my idea. I was like: 'Let me disappear for a while and then come back.' If I had done it my way, I wouldn't have had my revenge. I wanted to be so dramatic and like 'I can't even stand the look of the Knockout Championship without me.
There will never be another [Camelot]. ' I really wanted that moment. Sure, they really wanted a rematch. Mickie and I have told such a beautiful story. This is my first real feud. Not being in that role is okay because I've had it for so long.
I've really pushed through the year to have other people do other things. We had this crossover with AEW and NWA and I really insisted on, well, if it can't be me, let it be someone else. We have so many talented women on our roster that they deserve to be in my place or in a place similar to where I am.
So it's nice to see other people have this opportunity too." Deonna Purrazzo also let it be known that she is trying to reinvent her character now that she has lost the most precious item she had of her and which made her the best on the roster.