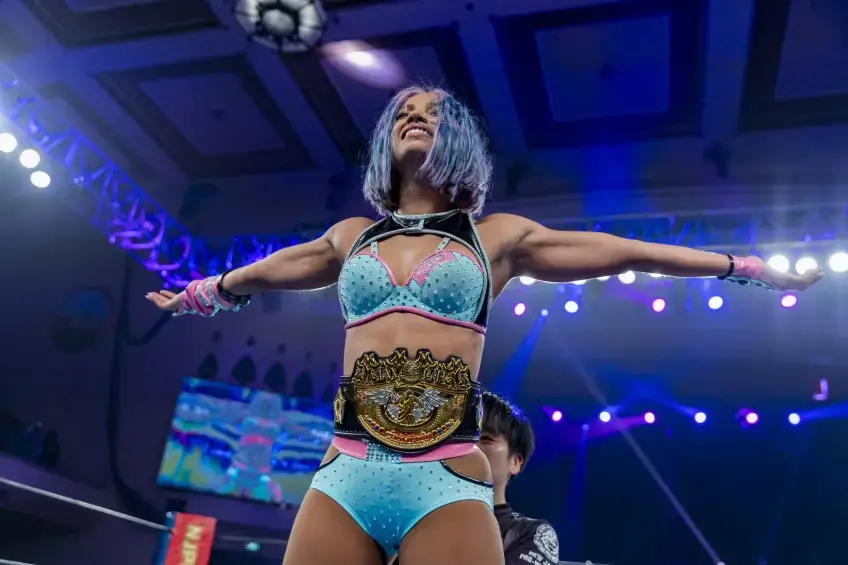 During NJPW Battle in the Valley, KAIRI put her IWGP Women's Champion title up for grabs against
Mercedes Moné
(former
Sasha Banks
in WWE) who officially debuted in the ring in the Japanese company after showing up at Wrestle Kingdom 17 just to launch the challenge to the champion and make her promo.
The fans were once again impressed by their performance, according to what can also be read around social media, with the two obviously knowing each other very well thanks to their past in WWE and it also seems that the former Legit Boss has really made an improvement with the moves more related to Lucha Libre, a discipline that he studied in the months away from Stamford.
In the end she pulled a new finishing move out of the hat which she called "Moné Maker", therefore "money maker", translated into Italian, and thus managed to pin KAIRI to win and become the new IWGP champion, also paying homage to the late Hana Kimura with gear inspired by hers.
Update on Mercedes Moné
During a recent chat with Inside The Ropes' Alex McCarthy, Mercedes Moné opened up about her passion for wrestling and how important it is to always follow your dreams and fight for them.
"First of all, if I were to talk about this for the first time, it wouldn't be with you". He said of his WWE departure: "When it comes to anything in wrestling, you have to go with your heart, your passion and your soul.
When it comes to me, that's all I have for the business, it's my passion and love for it. I love wrestling. Until the day I die, I will have a passion for it. I want to fight for it. I want to create magic for people all over the world to be able to do this.
I feel like I did, and I just can't stop and let that dream die. So for me, I just have to keep showing the world my love for it, my passion for it, and show them that women's wrestling is where it's at and it has to be at the top and be in the main event.
He needs to be respected and he needs to be given the same opportunity, just like men." While speaking to Ella Jay of SEScoops, current IMPACT Knockouts Champion Mickie James discussed Mercedes Mone's journey to becoming one of the h*ttest free agents in wrestling.
"I'm excited for her. I've said this, the world is her oyster. She can literally do whatever wants. I think any company would benefit from having her on their roster. She is a star. The fact that she doesn't need to be on a roster because she could go act or she could go do a lot of things, it shows that she has a genuine passion for wrestling and she's great."