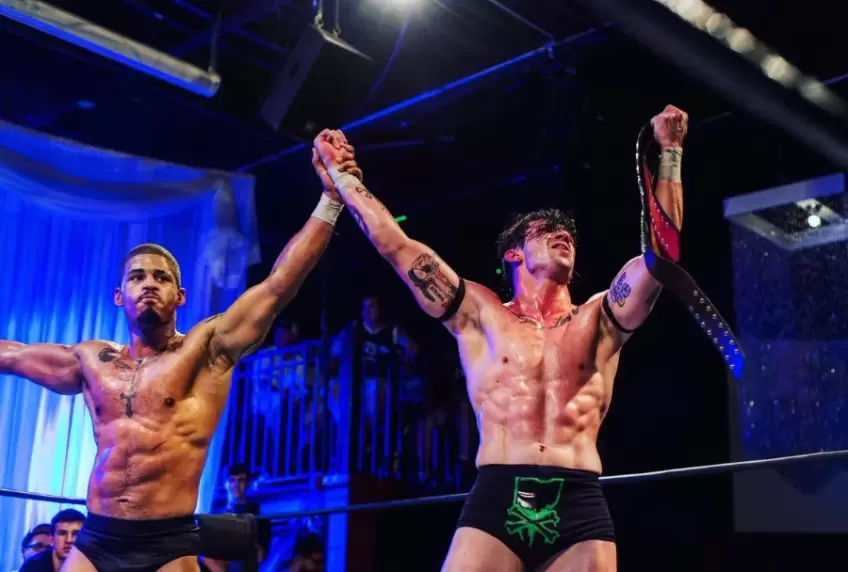 Let's move on to the next match which is nothing more than the second semifinal of the Dusty Classic. TAG MATCH: MSK vs Blade & Enofe; We are witnessing a very high intensity and speed match with the two teams who have no intention of sparing themselves.
The MSKs are literally buckshot, coming close to victory after a splendid superkick-double foot stomp combo. Enofe and Blade are not there and after having scored a sort of double cutter Enofe engages in a flight from the top of the pole which, however, is followed by only a 2 count.
MSK secured their place next week
The MSK then decide to put an end to the match and they do it thanks to their proven springboard blockbuster. Result: pinfall victory for the MSK who then reach The Creed Brothers in the final.
So here we are at the last match of the evening that sees the highest laurel in the female category at stake. Once The Creed Brothers sealed their spot in the final, it was time to see who they would be facing as MSK and Malik Blade & Edris Enofé squared off.
The underdogs Blade and Enofé had their work cut out against one of the best tag teams in the world right now. However, they almost forced an upset with multiple nearfalls. In the end, MSK secured their place next week.
MSK will have the chance to become Men's Dusty Classic winners for the second consecutive year. In the Dusty Classic, teams like Grizzled Young Veterans and Imperium are also taking part. These teams are likely to put on insane matches against MSK, given how talented Wes and Nash are.
They were a regular attraction in Impact and PWG, making them one of the most sought after teams in North America. Wes Lee and Nash Carter faced off against Isiah Scott and Jake Atlas in the first round of the Dusty Classic.
This match served a much greater purpose than just the debut for MSK. It also served as a way of taking the Isiah Scott-Jake Atlas storyline forward. Swerve has been teasing a heel turn for some time, and Atlas is the perfect foil for him.
On WWE NXT, the Grizzled Young Veterans beat Ever-Rise after the veteran team hit the Ticket to Mayhem for the win. MSK beat Atlas and Scott after hitting a modified Hart Attack on Scott for the win. The Undisputed Era beat former NXT Tag Team Champions Fandango and Tyler Breeze after Adam Cole super-kicked Fandango out of midair for the win.
Nxt
Sting