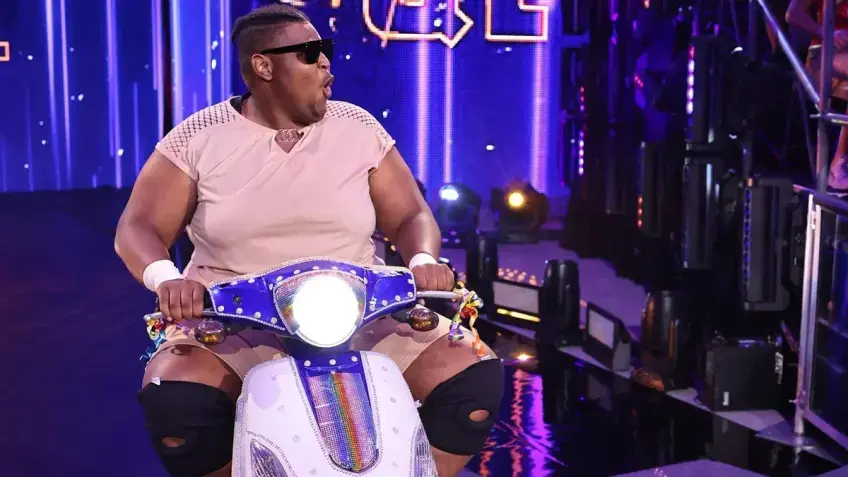 NXT's "Super Diva", Quincy Elliott, began to make WWE audiences discuss a lot, even before her debut due to her extravagant character. Just his personality would have divided the WWE Universe with so many people who couldn't wait to see him, but there are also those who really didn't want him on WWE shows anymore.
Elliott showed up a few months ago on NXT after appearing continuously on several episodes of Level Up. The WWE Hall Of Fame commentator of NXT: Booker T has also wanted to pronounce on the athlete in the last period, who spoke of how he is not entirely convinced of what Quincy has to offer within the company.
These words would have sparked a series of controversies, according to which some fans would have called him a homophobic man. After correcting the shot, Booker T still praised Elliott's great skills, saying he was simply not impressed by his character.
After seeing him alongside Shotzi Blackheart in that Halloween Havoc, as co-host of the evening, Quincy Elliott disappeared from the scene for a while, with fans of the company who have not seen him since overnight, beginning to wonder if there was any problem with the big boy from NXT, as loved as he was looked at strange by the WWE public.
Quincy Elliott can return to the ring
Apparently, according to what was reported by the athlete himself on his Twitter page, it was an injury that stopped the wrestler, with this problem that seems to have been solved, given that Quincy Elliott has received the ok from the WWE doctors to return to performing on the company ring.
But let's see Quincy Elliott's message on his personal social profile: "Medically cleared!! And I'm the spirit of the Bad Bitchmas, see you tonight at NXT Tampa". Last night, therefore, Quincy Elliott returned to show up in the NXT rings, for the usual WWE yellow and black roster show, which obviously takes place without cameras, with the athlete who fought in his first match in months stop, to get some rust off.
During a recent interview, Triple H shared future plans for the global expansion of the company's developmental brand: "So, NXT Europe, NXT Australia, NXT South Africa, South America, Mexico, [we will] eventually build that into a global system that will lead to almost a World Cup scenario," Triple H revealed.
"The World Cup finals for NXT will one year be in London, the next year maybe Mexico City, and all the while really what you're doing is building this fanbase for college football while you're building stars for the major leagues which is RAW, SmackDown, WrestleMania, right."