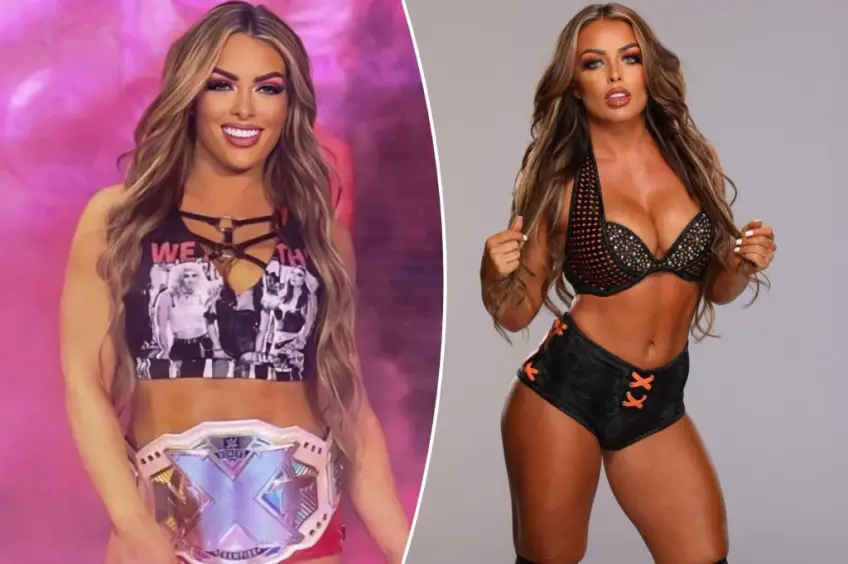 Mandy Rose
was at one time the most popular female wrestler in WWE NXT and she recently spoke about Roxanne Perez the woman who took the title away from her before she was released by the WWE. According to many outlets, the reason why Mandy Rose was released because she was releasing a lot of risque content on her FanTime account.
Rose held the NXT Women's title for a total of 413 days before she dropped the title to Perez. According to some reports she was told that she would simply drop the title on the same day that she was going to. It wasn't actually planned and she wasn't told in advance.
Mandy Rose Believes That Perez WWE NXT Reign Should Not Have Been Rushed
Rose spoke about dropping the title to Perez on The Sessions with Renee Paquette. She stated that she didn't like the fact that Perez won the title in a rushed fashion.
"I felt bad for Roxanne because she's so amazing," Rose said. "I really do love her as a person and I feel like it was exciting that you're winning, you know, anytime you're told you're winning a title is very exciting. But, I just felt bad because I felt like it was rushed.
It was rushed. She handled it like a great professional woman that she is and we just got it done and she was obviously very happy and we had a great match." After Rose was released from the company, Perez began a feud with Gigi Dolin and Jacy Jayne.
They belong from the faction called Toxic Attraction which was a group that Rose once led. Perez managed to beat Dolin and Jayne is a Triple Threat match on the PPV called Vengeance Day and this was the first time Perez defended her title successfully after winning the title from Rose.
Perez has also praised Rose during an interview and stated that Rose was the person she used to go to to receive help during her first year in the WWE. Mandy Rose was actually at one time a main roster superstar. She however, was kind of put in NXT as NXT lacked a lot of star power and the brand was struggling to get good ratings. Mandy Rose garnered a huge fan following for herself in the WWE during her time at NXT.
Mandy Rose
Nxt