Charlotte Flair wanted to leave the title to Bianca Belair
by
SIMONE BRUGNOLI
| VIEW 2133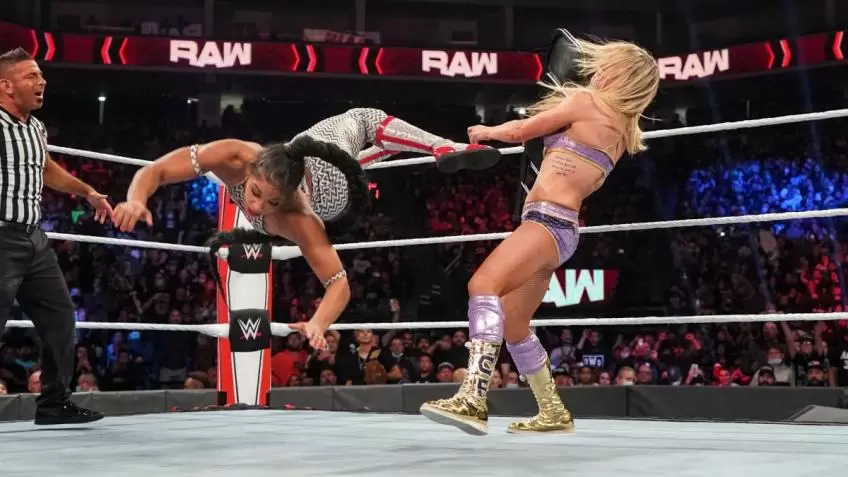 In the last few hours, some disconcerting details have emerged about the women's title tour at WWE, with the two champions who performed a belt exchange, following the Draft, to tear their hair out of desperation. TalkSPORT, however, lets us know of positive thought by Charlotte Flair, who last Monday faced the now super-loved by fans Bianca Belair on Raw, in a truly spectacular match that she did not disappoint.
It seems that the Queen has fought with the WWE to lose cleanly to her EST, thus leaving her the Raw women's champion belt. Adding too: "She realized she was a big fan of Belair and believed that the end [of the match ed] killed what could have been a great victory for her."
Obviously, unfortunately, or luckily, it depends on how we see it, Bianca didn't win the belt, with Charlotte illegally hitting her with a chair and making her win the match, without being awarded gold. And she is now on Raw, where she was drafted, without a belt and waiting to see what the future holds.
Update on Bianca Belair and Charlotte Flair
Following the WWE segment between Becky Lynch and Charlotte Flair, former WWE booker Dutch Mantell announced that he wasn't a fan of the entire ordeal. Bianca Belair may not have won the Raw belt, but among the many things she has won and conquered in this 2021, there is first place in the annual PWI 150 list dedicated to women in wrestling.
WWE EST is in fact considered the best wrestler of 2021, having: won the Royal Rumble 2021, won the SmackDown title in the first Wrestlemania main event in history where she and Sasha Banks participated as the first two black women to arrive on that stage and had some crazy matches, especially with the Four Horsewomen, who only last year in this ranking were in the Top 5 together with Asuka.
In addition, a few days ago she was the protagonist with Sasha Banks and Becky Lynch of a historic Triple Threat at Crown Jewel in Saudi Arabia. On the latest edition of Sportskeeda Wrestling's Smack Talk, Dutch Mantell reviewed last night's SmackDown and AEW Rampage episodes with Sid Pullar III and Rick Ucchino.
Here's what Mantell had to say regarding the closing segment of SmackDown. "This was the sh*ts. It was kinda crappy leading up to that then it was just nothing. I didn't like it at all. What if Becky was the RAW Champion but Charlotte wasn't anything, would she have to turn the RAW Championship in? I've never seen them swap [World Championship] belts like marbles.
I don't know who in the hell put that together. It was terrible. It really was," said Dutch Mantell.