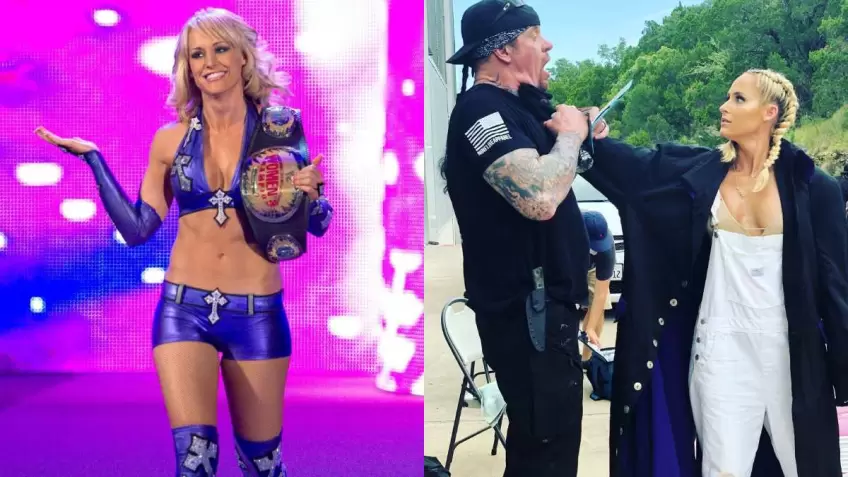 Michelle McCool is the wife of legendary WWE Superstar, The Undertaker, and she recently spoke about wanting to fight current WWE Superstar Bianca Belair if she ever returns to fight inside a WWE ring. Michelle is a former Divas Champion and she recently appeared on the Wives of Wrestling podcast to speak about this.
According to Michelle, Bianca is one of the most athletically gifted human beings that she has ever seen. McCool participated in the 2018 and 2022 Royal Rumble events, where she got the chance to perform with various female wrestlers.
Michelle McCool Talks About Her Time in the WWE and Not Asking For Help
"If I were to ever come back, I would love to work with Bianca … It's just crazy, she's just crazy strong, she's just crazy talented, but I really had fun with some of the newer girls this past Rumble," she said.
"Liv Morgan, I really enjoyed working with, Zelina, but I think Bianca. Becky would be fun just to talk trash with, but yeah, I think Bianca would be the one". McCool believes that her era kind of got skipped as WWE went from the Attitude Era to the women's evolution era.
She stated that she never required a pat on the back. Michelle McCool also never asked The Undertaker for help during her time in the WWE. However, people do not believe that she never asked for help from The Undertaker. She also stated that she was surrounded by extremely talented women in the locker room during her time.
"I couldn't care less what people think about me … It's nice to get some recognition that we did play a part in that … There was one occasion that a guy really popped off for no reason, but it's because he was dating somebody else, that I had to beg him [The Undertaker] not to step in," she said.
"I was like, 'Look, I think I could beat this guy up if I needed to so I don't even need you,' but as far as pitching storylines or whatever, I never once, and I made it a point not to do that … It's nice to get a little recognition that we did pave the road because we fought for everything we had. We had to fight to even get the Divas Title. It is what it is, but every minute counts".