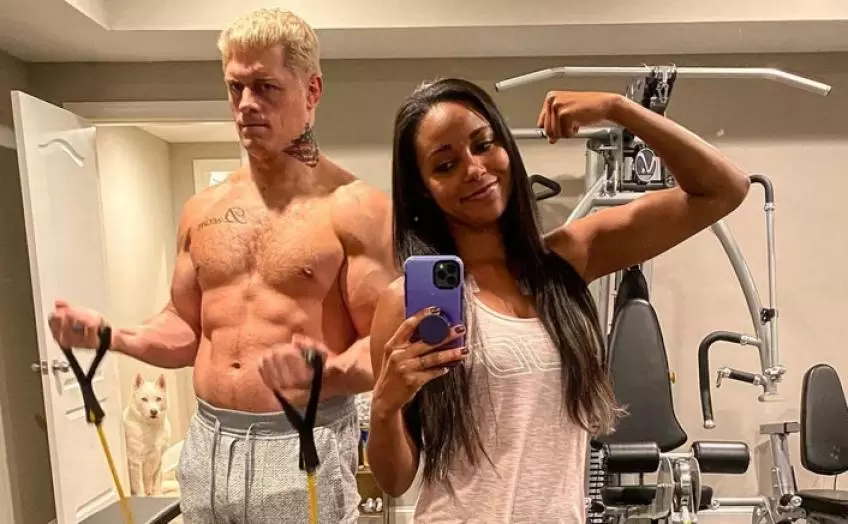 Brandi Rhodes worked for WWE as a ring announcer until 2016. Taking the name of Eden, she made her debut in this role during Wrestlemania 31, eventually becoming the backup ring announcer for Raw, while Lilian Garcia was recovering from surgery.
On May 24, 2016, she was granted her release from WWE, just days after her husband Cody Rhodes requested her release. The two then, as we know, contributed to the founding of All Elite Wrestling and Brandi worked mostly behind the scenes, but she occasionally accompanied her husband to the ring and even fought.
Who knows what her possible role in WWE might be right now. We await further details on this possible return, bringing you the latest on this.
New details on Brandi Rhodes
After seeing Cody Rhodes' incredible return to the WWE rings at Wrestlemania 38 and after seeing his equally incredible feud with Seth Rollins, which ended in the worst possible way, with a very bad injury that forced him to stay home now for 9 months, it may be time to see Cody's wife, Brandi Rhodes, also back in the WWE rings.
According to reports from the reporters of the well-known site Fightful, in recent weeks, Brandi would have worked with the WWE to reach an agreement, to get back into business as a wrestler. In one of the latest updates to the site, overseas journalists said: "For those wondering about Brandi Rhodes, since she left AEW with Cody to join WWE, we have a few small updates.
Brandi Rhodes is continuing to train in the ring, even though he hasn't had any matches since January. Based on what we have been told, his relations are 'cordial' and many things have been and still are discussed with WWE." At the moment we, therefore, do not know if Brandi has already talked to the top management of the Stamford-based company to be able to return to the ring to fight or if at the moment there have been only the first approaches, which will then have to become real discussions to reach an agreement.
In the future, it is likely that we may also have a tag team match between Cody and his wife and several other Superstars like Miz and Maryse or Edge and Beth Phoenix, as seen at the Royal Rumble. Rollins and Rhodes have been embroiled in a bitter rivalry since The American Nightmare made his return to WWE at WrestleMania this year.
The two have clashed on three major shows, with Rhodes coming out on top on all three occasions. The American Nightmare has been out of action since Hell in a Cell due to a pectoral injury but is expected to make his return around Royal Rumble 2023.
Brandi Rhodes
Who is Cody Rhodes' Wife, Brandi Rhodes?
Brandi Rhodes Relieved at Cody's WWE Injury
Brandi Rhodes Wish List: 10 Dream Matches from WWE, AEW, Impact & More
Brandi Rhodes Reacts to Cody's WrestleMania 39 Loss; Reveals Mom's Ire
Brandi Rhodes Launches Yoga & Pilates Studio!
Brandi Rhodes Encourages WWE Raw Participant to Counterattack Rhea Ripley