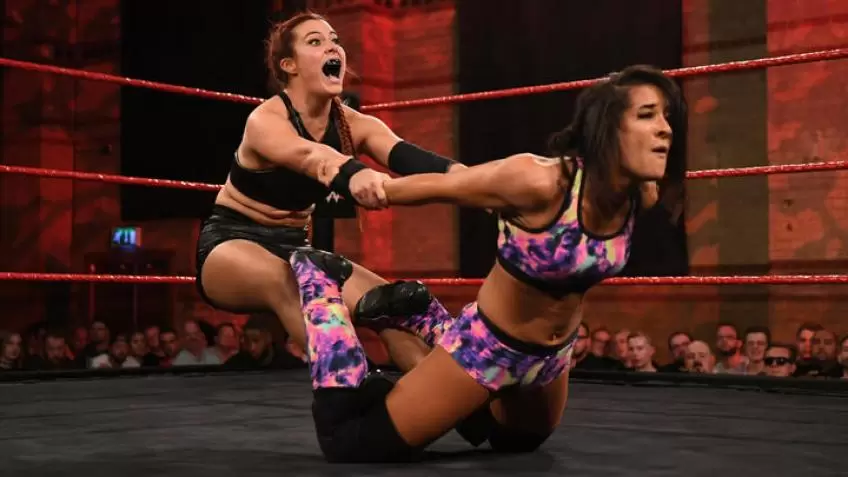 Killer Kelly made his NXT UK debut in 2018 battling Toni Storm and Isla Dawn, with one of the two who as we know now went to AEW and the other still fighting on the show, while Killer Kelly left WWE in 2020 and is about to return to IMPACT.
The wrestler had managed to enter WWE thanks to her participation in the Mae Young Classic in 2018, in fact, she is one of the wrestlers mentioned in the article by Donne Tra Le Corde, "MAE YOUNG CLASSIC: ARE YOU REALLY NEEDED TO SOMETHING?"
Killer Kelly is an excellent pro wrestler
The signs don't stop there though as Killer Kelly has removed all references to NXT UK or WWE from her Twitter bio - changing 'First ever Portuguese WWE Superstar' to 'Portuguese Pro Wrestler based in Germany'
She has also been completely removed from the NXT UK roster page on the WWE.com website. Speaking with Cultaholic's colleagues, Killer Kelly recounted her experience in WWE, specifically in the UK development territory: "I love the BT Sport Studio.
It looks so professional, but I also love the venues. I love all the venues. as I am able to visit all these places around the UK. I really enjoyed it. It gave me an old-school feel. Then again, you were a British venue, very cool, then there is something that is trying to be American.
It's strange. Then another thing: I never felt 100% like I was in WWE because the roster was made up of all those people from the indies. I was like, "This is an indie show." It was so weird, but it was cool to get into the WWE environment, but being a familiar environment and seeing everyone walking on tiptoe, I was like, 'Dude, I saw you the other weekend and you were dead drunk and now you wear a suit and be good.
What the fuck is going on? 'It was so strange. We were recording with WWE and the following weekend we were back doing things for the indies. I didn't know where I was sometimes. I never felt completely in WWE." As stated above, Killer Kelly is about to return to IMPACT, so please continue to follow and support her career in a women's division which is progressing very well.
Killer Kelly is the latest wrestling star to share her views on the controversy surrounding AEW President Tony Khan and Big Swole. "I never say anything but… this ain't definitely it. Shocked, to say the least," tweeted Killer Kelly.