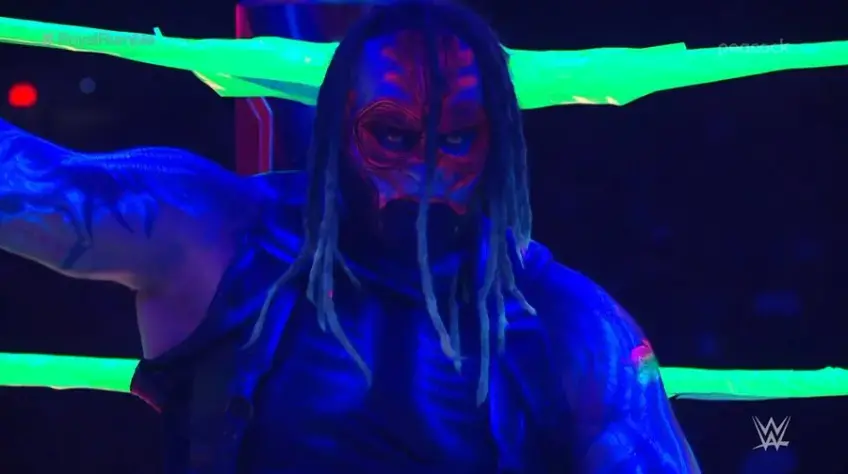 During the night, the long-awaited first WWE Big Four, the
Royal Rumble
, was aired, with numerous great matches within the event card, in addition to the royal brawls of the same name that gave the event its name. Among these great matches there was also the first Pitch Black match in WWE history, which saw Bray Wyatt return to the ring after over a year, in a contest against former NXT athlete LA Knight.
During their match, Wyatt wanted to show off a whole new look, with a new mask and phosphorescent colors branding his entire body. The match was obviously shrouded in darkness, with the arena seeing all its lights go out, except for a very few neon and spotlights that lit up the ring and the stage.
The match was hard fought, but in the end it was Bray Wyatt who won, who with a Sister Abigail put an end to the battle with his enemy, but certainly a big hand to Wyatt was given by his mysterious character, Uncle Howdy, who surprisingly appeared outside the ring, in one phase of the battle of the two, launched himself with an Elbow Drop against LA Knight, knocking him out for several seconds.
Update on Uncle Howdy's status
However, from the look of things, the Uncle Howdy character is seemingly based on Wyatt's 62-year-old uncle, former NWA World Champion Barry Windham. In his latest interview released to Yahoo Entertainment microphones, LA Knight had wanted to talk about her relationship with Bray Wyatt just a few days ago, getting out of her character and talking about the great chemistry she found in the ring and in promos with the former WWE Champion, despite their completely different styles.
Concerning this matter, Knight had said: "Working with Wyatt is a unique challenge in the sense that we are two diametrically opposed personalities. You have two very different approaches to what we do and in quite bizarre ways, we manage to put them together and it becomes a beautiful symphony that can speak, just because it's all conflicting what we do.
At the same time, these contrasting pieces can blend together into something that's really very creative and satisfying and also very good." It's not known as of now who is behind the mask of Uncle Howdy. The company did a good job to conceal who it was.
Alexa Bliss and Uncle Howdy watched each other from afar. The segment ended with Bliss looking at Howdy with a look of disdain on her face.
Raw
Raw
Smackdown