Gigi Dolin's Brother Ringside for Tonight's WWE NXT Match
by
NOMAN RASOOL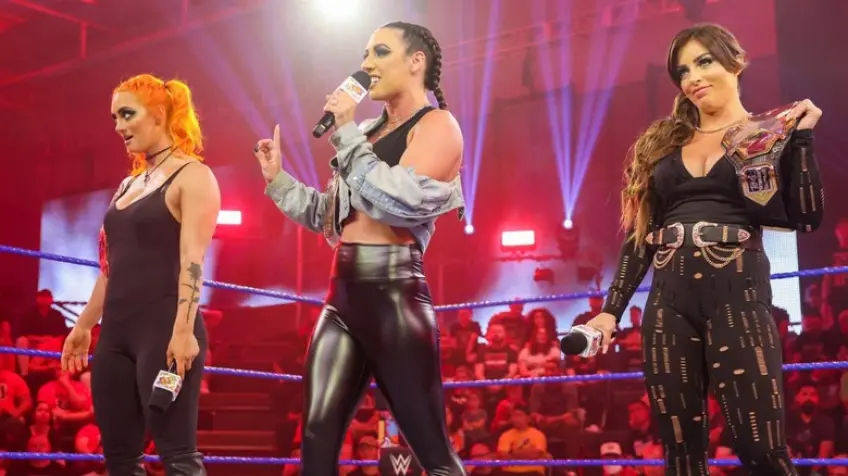 Gigi Dolin, the fierce competitor of WWE NXT, is set to face off against her former tag team partner, Jacy Jayne, in a highly anticipated match. However, what has caught the attention of fans and spectators alike is the confirmation that Gigi Dolin's brother, or at least someone portraying her brother, will be present ringside for tonight's event.
The ongoing storyline between Dolin and Jayne has delved into Dolin's troubled past, revealing that she grew up in an abusive household. Jayne has accused Dolin of abandoning her younger brother, leaving him to endure the torment of their abusive mother.
As Dolin announced this week's match, she made it clear that her brother would be present ringside, eagerly watching as she sought to teach Jayne a lesson.
Dolin's Brother Adds Intensity
The WWE has officially confirmed Dolin's brother's presence for tonight's showdown through multiple tweets and match previews.
In one tweet, they asked, "What will happen when @gigidolin_wwe and @jacyjaynewwe collide TONIGHT on #WWENXT with Dolin's brother in attendance?" The match preview further intensifies the anticipation, stating that the animosity between Dolin and Jayne remains unabated.
The former NXT Women's Tag Team Champions will clash inside the ring again. After their explosive breakup, which saw Jayne viciously kick Dolin into a door, Dolin gained the upper hand by defeating Jayne in a singles match.
However, Jayne retaliated and cost Dolin the NXT Women's Championship at the Stand & Deliver event. The rivalry has taken on a deeply personal tone, with Jayne resorting to vitriolic comments about Dolin's family. Dolin now intends to invite her brother to witness her triumph as she looks to assert her dominance over her former friend.
The preview leaves us wondering what new chapter will be written in their storied rivalry, urging fans to tune in to WWE NXT at 8/7 C on the USA. As of now, it remains uncertain whether an NXT Superstar will portray Dolin's brother as a means of introducing a new character or if her actual younger brother will be incorporated into the storyline.
Dolin recently shared a post on social media referencing her brother, Miles, who is 11 years younger than her. The tweet has sparked fan speculation about his potential involvement in the WWE narrative. In a previous interview on Busted Open, Dolin spoke about her real-life brother, Miles, revealing that he is autistic.
She expressed her desire to provide him with a good life and credited him for igniting her passion for professional wrestling. Dolin's childhood was shaped by the strict lifestyle of a Romani child gypsy, living in an environment plagued by addiction and personal struggles.
She overcame significant hardships, including being separated from her parents and enduring homelessness. Determined to give her brother a better life, Dolin has found solace and purpose in wrestling, aiming to create a bright future for both.
Nxt
• The Miz Open to Collaborating with NXT Wrestlers
• Is Channing Stacks' Lorenzo Believes NXT Outshining WWE Main Roster?
• Arianna Grace of WWE NXT Discusses Knee Injury and Initial Reactions
• NXT Recap: Tag Title Clash, Dragunov Triumphs, Lee Earns Title Shot
• Swerve Strickland Discusses NXT Challenges Post-AEW Move
• WWE Sets 2024 NXT PLE Vengeance Day Date & Venue